| | |
| --- | --- |
| Posted on June 19, 2015 at 10:55 AM | |
Hello friends,
It has been a long 6 weeks! Thank you to those who have been praying for us and helping to encourage us.
Just to give you a quick glimpse – we haven't had electricity or running water for a lot of the past 6 weeks, most everything is broken, both vehicles and moped have needed significant repairs (of course all at the same time – leaving us on foot), kids have been sick, our neighbor was shot during a breaking and entering, and no sleep for the weary due to extremely loud music during Dominican holidays. Sandy had a case of the shingles, a bout with poison ivy, and her tendonitis has taken a new turn making it painful for her to even walk. Oh, and did I mention that some of our loved ones are facing the realities of deportation to Haiti due to a politically charged racist immigration law. All the while I was in the US for an Air Force school and feeling helpless with a thousand unanswered prayers…
I guess I always thought missionaries got a pass on a lot of the things that other people complain about or that God just miraculously sorted that stuff out for them or answered their prayers faster and more precisely. We never know what we might learn from the crazy things that seem to keep our attention on matters of the world, but we usually learn something and are stronger on the other side. The big problem is that it is difficult (at least for me) to focus on matters of the soul when the majority of your time is spent trying to throw away food that spoiled in your refrigerator that isn't getting electricity or getting water (without mud or sewage) to run through your faucet or ensuring the safety of your family when neighbors are getting shot.
Unlike the guy who wrote "Footprints in the Sand" we have not yet gotten to the other side to notice that God was carrying us. We are instead still asking – God where are you? At times like this we often discuss the difference between cognitive ability to know God is good and God is present versus feelings counter to those ideas.
THEN: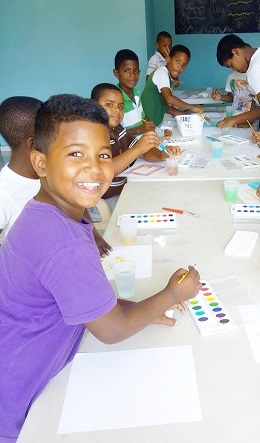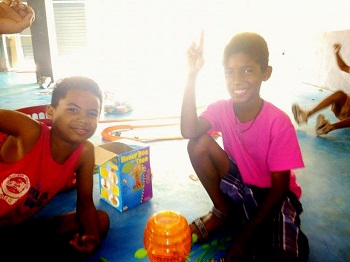 We are reminded that what we have experienced over the past several weeks is just another day in the life of these little guys – the reason we are here.
We would like to introduce you to Club de Chicos de Dios (Boys of God). Yes, they picked the name even though we wanted to call them either wild ponies or caballeros (cowboys). These boys ages 9-11 have lived an entire life much more adverse than our past 6 weeks. Yet always they are full of smiles at the smallest hug or tiniest bit of encouragement. Thank you all for making this center in Rio San Juan a place of safety and security for these Chicos de Dios. We had 15 kids at our first meeting last Tuesday. We all played board games, built a cool hot wheels track, painted with water colors, and got to enjoy MANY, MANY, MANY bowls of cereal. Thank you for enabling us to bless these little guys. We are very excited to see their story of despair turned into hope and a future.
We may still be asking – "Where are you God," but we know we are here to help breath life and love into these kids. We know that God is telling a story that is much greater than our little family and that eventually we will look back with a great story of how God used this for HIS good.
¡Thank you for your continued prayers and support!
Categories: None