| | |
| --- | --- |
| Posted on March 14, 2015 at 9:30 AM | |
Hi all of you. What an adventure it has been so far. We just returned home from a few weeks of R&R back in the States. Interesting that here is our new definition of 'home', but in just 6 months, it already feels that way. We received so many questions from our friends in the US we thought we'd answer a few here.
1. How's the DR? Hmm…good but also nebulous. We think pretty good. 'DR' is floating around in the Caribbean, all tropical-ish. Although I've never asked personally, I get the overall feeling this 'DR' is content and 'tranquilo' as they say here.
2. Biggest Surprise? 1. We landed ourselves an incredible community of English speaking friends. It helps that we walk up to people and say, 'hi, doyouspeakEnglish---doyouwannabemyfriend?' After only 3 weeks here we had ourselves a veritable community group. That there is a God thing because there just aren't a zillion people around to pick and choose from. What we love is that we really do life together. When you don't have to compete with busy schedules and Iphones, opportunities for deep relationship just happen. 2. The second biggest surprise is our affinity for our Manna High School teenagers that lead our Club Chiquito program. WE DON'T LIKE TEENAGERS! Ohmygosh, yes we do, we LOVE our teenagers! They are different.
3. Biggest Difficulty? 1. Need. Our predecessors warned us of this but, gosh. We've been wading through a lot of teachings, especially those from Oswald Chambers who consistently reinforces the fact that it is all about what God has CALLED you to do, not simply filling the needs of the people. We could go aimlessly on need 'til the cows come home - And they are all out partying all over creation-- not even thinking about coming home. 2. Cultural change was hard, but the real challenge has been God's working in us to lower our expectations in order to focus on what really is important. This is a change we REALLY wanted but still, growth can be painful sometimes!
5. What have you learned? Dominicans have taught us so much about living in a collective society and putting relationships first. Slowing down too. Let's mash those together: slowing down for relationships. These people are SO loving. They may not get stuff done like we do, but they are showing us what's even more important.
6. What do you miss most? Ryan: good beer. Sandy: good mountains
7. When are you coming home? See first paragraph. We know that God has us right where he wants us. When he says 'out you go' then out we will go.
8. Oh yes! And many of you (when you weren't spoiling us with comfy beds and yummy dinners) asked for updates on our ministry:
Supporters! Look at your new floor! Huge gratitude goes out to our supporters who funded this new safe floor. A bit of an understatement; but it's so nice to NOT have kids tripping and falling on broken tile every day. We can even play leap frog!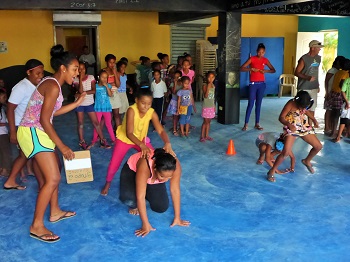 This week we hosted two very hard working mission teams. They directed a great activity with the kids including a drama, crafts, activities and lesson. The kids had SO much fun. They also painted and poured new concrete slab for our outdoor area. If you are interested in funding some basketball hoops out here please click giving at the top and identify bball hoops in your note. We can't wait to show you pics of kids out here jumping rope and shooting hoops.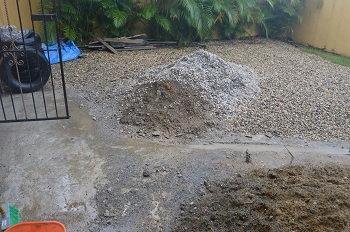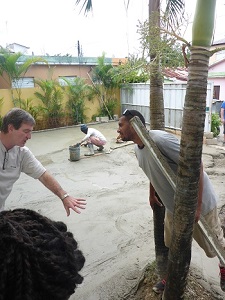 Last Fri night I got together with my 12-14 year old Girls club: Club de Chicas Respetuosas. I thought their little heads were gonna pop off when I asked them if they wanted to go and get ice cream. While there we did some planning for our next meeting which will involve indulging in A LOT OF PASTA and chick flicks. I told them I'd give them money for the shopping and they said, "No Sandy, that's not fair." I said, "oh dears, this ice cream and that pasta is paid for by some great friends in the USA that support this ministry."
They thought that was too cool, so I decided to ask them: "Why do you think they send us money to do this?" I gotta tell you, I really wasn't sure what I'd get, but… "because God asks them to care about other people." Nailed that I think. Have I told you I love these girls?
Later we walked around Rio San Juan for a while. I felt like mother hen and also had the very distinct feeling that coyotes were circling the coop of my 12 chicks. (I wonder how many bazillion times that night I reminded them to never walk alone at night). Please pray for these girls, their safety, their discernment and the knowledge that they are worth so much. With your partnership, together we will run those coyotes right outta here.
Categories: None