| | |
| --- | --- |
| Posted on September 22, 2014 at 8:40 PM | |
We've actually managed to stay out of the pokey this week and get some work done…
Over the last couple of weeks we've met with our directors here at Manna as well as local leaders in Rio San Juan. Particularly, the principal and the mayor were interesting. They were not shy with their needs (good for them!) and more or less gave us free reign in their communities. We were pretty overwhelmed (still are) with all of the need. There is a lot. We've decided to start small and hope to build a program that helps this community help themselves.
We spent a few days cleaning (gross!) the community center in preparation for our first event. We put the trash outside --- I'm talking legit trash (colored coloring books, dried fingernail polish, broken pencils, etc) and it was looted. Pouring rain? No matter, it was like Christmas to these kids. They were clinging to their 'items' for dear life. Part of me wanted to pounce because they were making a GIANT mess, but mostly my heart just crumbled. There are just no words. I never want to exploit these beautiful people, but when I write to you about NEED this picture is worth a thousand words.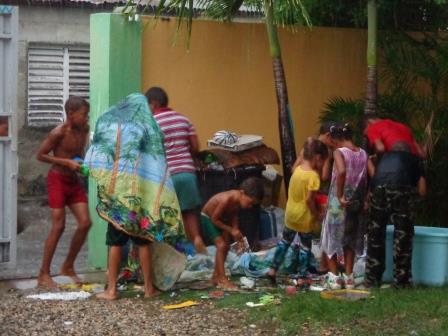 Our first event was a movie night and was a super success. About 100 kids came, not a parent in sight. In fact I think it is weird that we thought it was weird when we saw one mom drop a kid off and pick her up. (???!!!) We just haven't seen a lot of kids attached to parents around Rio San Juan.
Today we started our after school program. Our center is bare bones, a few chairs and that's about all. We bought some balloons, pinterested some simple games, (kids in the US would say 'no thank you'!) but OMG was it fun. And loco. Our ministry (Manna) runs a high school of 40 students. When you see these kids you just think, 'wow, these kids are really different'. When you tell them so, they say, 'Yes I know, thank you'. We are incredibly blessed to have them help with our ministry. I'm not sure if you've traveled through the Caribbean much, but young, strong, Christian, male leaders like these kids just don't exist. I want our little kids to want to be like them. In fact, I know they already do, now they just need to learn the 'how'.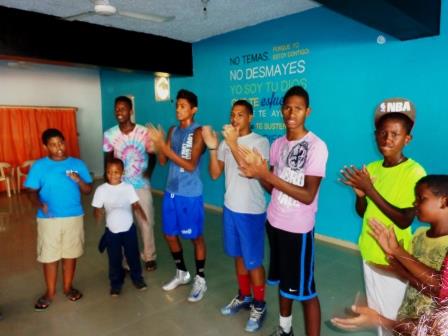 So, to our supporters – well done! We wish you could also have been the one to receive the big giant unsolicited hugs from these kids as they left the center. We are so proud that you've taken a risk to bring love and hope here.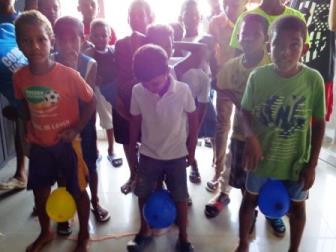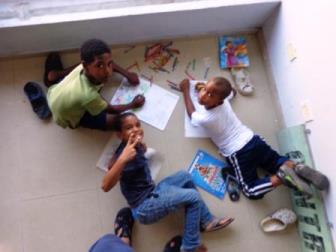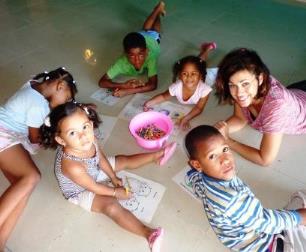 If you would like to partner with us, please select giving at the top. If you would like to help with something specific, top ministry needs are below. Feel free to email us at TruesOnMission@Gmail.com so we can target your gift.
1) Plastic chairs – Require 35 more ($8/ea) - This need has been met - A Thousand thanks!  Hope you can come enjoy an icecream and a Boynka in your chairs.  
2) Plastic tables – 8 ($45/ea)
3) Projector for movies – ($400)
4) Supplies for crafts and games (1 month supply) – ($40)
Categories: None